Review of Weighted Blanket and Lyocell Sheets from Weavve Home (Singapore)
I first came across weighted blanket on the Instagram stories of Chantalle Ng, a Mediacorp artiste. She mentioned someone gifting her a weighted blanket and was sceptical about it at first. Turns out, it did give her better sleep. I thought of my husband who is a light sleeper and EX who is often awakened by the night cries of LX.
Hence I thought a weighted blanket might be good for them. And that began my google search.
---
Weighted Blanket Benefits and Concerns
---
The benefits and concerns of weighted blanket in this section are referenced from pennmedicine.org, sleepfoundation.org, and health.harvard.edu.
Benefits of Weighted Blanket
Weighted blankets are supposed to work much the same way tight swaddling helps newborns feel snug and secure so they can doze off more quickly. The blanket basically simulates a comforting hug, in theory helping to calm and settle the nervous system.

Source: health.harvard.edu
A weighted blanket uses pressure to calm you down by activating your parasympathetic nervous system. This lower heart rate when you're stressed and thus an overall feeling of calmness. This is similar to the feeling of being hugged, swaddled, stroked, or held.
Here are four conditions that weighted blankets can help children and adults with:
---
Concerns of Weighted Blanket
Weighted blankets are generally considered safe, as long as the person using the blanket has enough strength and physical dexterity to lift the blanket off themselves when necessary to prevent suffocation or entrapment.

Source: sleepfoundation.org
A weighted blanket may be unsuitable for certain people or may require to check with a doctor or trained therapist. People such as those with
obstructive sleep apnea (OSA) (blanket may restrict airflow).
chronic respiratory or circulatory issues.
asthma, low blood pressure, type 2 diabetes, claustrophobia, or other chronic medical conditions.
sleep struggles such as chronic insomnia (insomnia for at least three nights a week for three months or more). The first-line recommendation now is a specific form of cognitive behavioral therapy (CBT) and relaxation techniques.
no physical strength to remove blankets by themselves, such as infant and toddlers. Weighted blankets for children is generally designed for those above 3 years old. The child should be able to put the weighted blanket on and remove it themselves.
---
About Weavve Home
---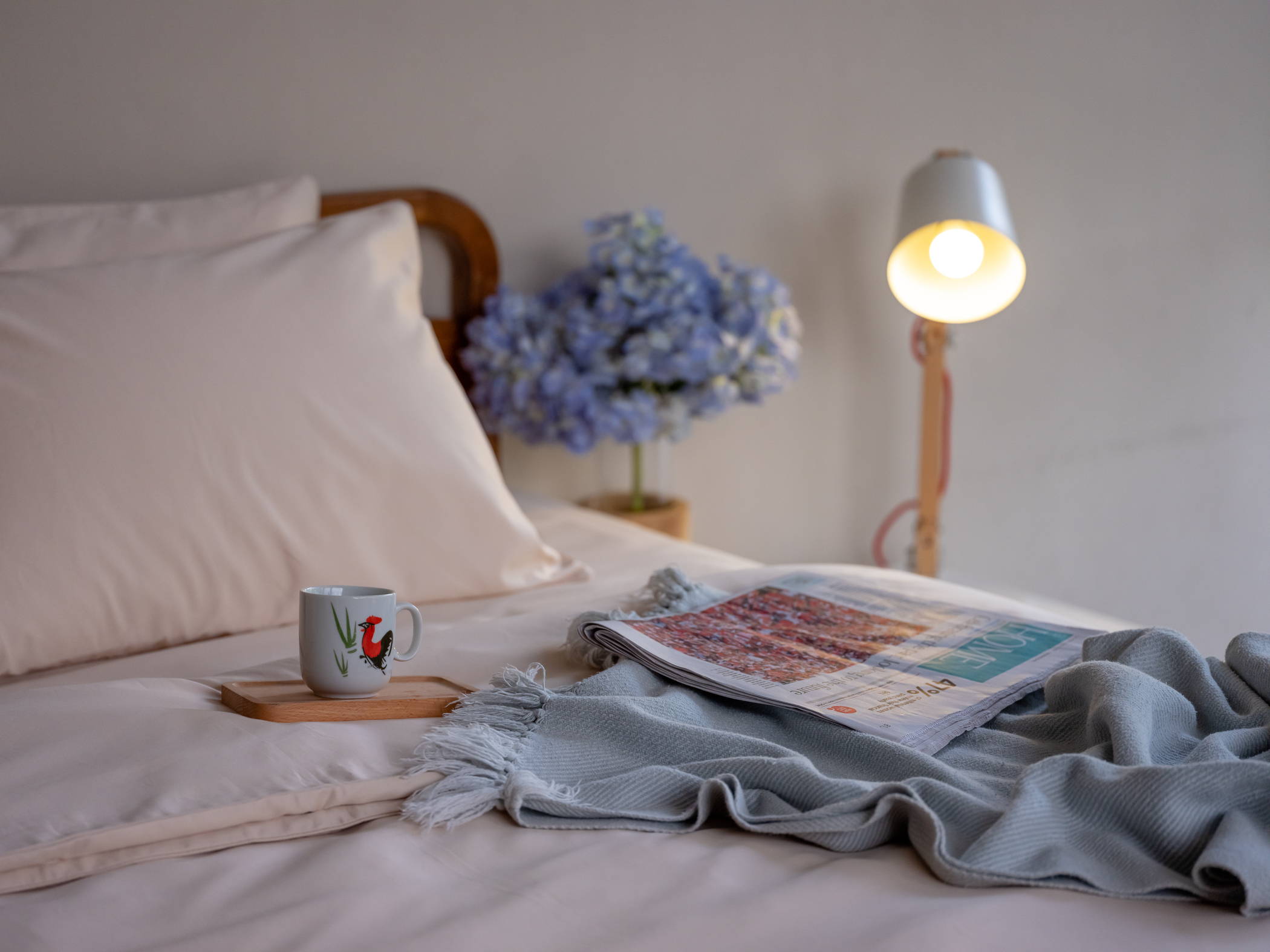 Judging from the myriad of brand options overseas, I assumed that weighted blanket has a sizeable market outside of Singapore. However, with its weight, it is too expensive to ship from overseas. Thus I set my sights locally.
That's when I came across Weavve Home ("Weavve"). My search gave me more than I expected. Weavve not only sell weighted blankets but high-quality bedding products at reasonable pricing. Weavve is able to provide such prices because they work directly with factories to eliminate all middlemen costs. Moreover, they don't spend on expensive marketing and high retail rentals. 
Also, if you find it less stressful to buy online than from a salesperson, Weavve is a good place to shop. The website and its product pages come with clear and detailed information for you to make informed decisions even when shopping online.
Still unsure because you cannot feel the products? No worries, Weavve has a 100-day free return policy for their bedsheets (Update: Previously the 100-day policy is applicable for all products.). All returned items will be donated or disposed of responsibly.
Speaking of which, Weavve makes conscious efforts to reduce the environmental footprint in their production and packaging. According to them, their products are responsibly made for users and the environment:
Responsible Packaging: They use reusable packaging and does not use plastic packaging for the sheets.
Oeko Tex® Standard 100: Weavve's sheets are certified free from harmful substances.
Responsible Sourcing: Tencel™ is chosen for their range of non-cotton products. Tencel™ is made from lyocell fibre which is manufactured with a closed loop process – this means that up to 99% of the reagents are recovered to be reused and the water is recycled. Tencel™ fibres are from 100% botanic origins – eucalyptus trees not suitable for agricultural use.
---
Lyocell Sheets from Weavve Home
---
Lyocell sheets look so comfy in the photos. And so when I came across this bundle of "Weighted Blanket and Lyocell Duvet Cover" at Weavve, I thought it's a good chance to try Lyocell out too. So let me talk about it a little before moving on to the weighted blanket.
About Weavve's Lyocell Sheets
Weavve carries TENCEL™ Lyocell which is different from other types of generic lyocell. For one, TENCEL™ lyocell is made from 100% sustainably sourced eucalyptus wood. You can read more about the material on their website.
According to Weavve, Lyocell is the coolest material you can sleep on. With its breathable, temperature regulating and absorbent fabric, the body is kept cool during sleep in a wide variety of climates. Fewer worries over the night sweat disrupting sleep!
Other than being silky-smooth, Lyocell is hypoallergenic. Thus, the sheets are beneficial for babies, and those with sensitive skin or allergies. No odour or bacteria problems as well because Lyocell fibres can reduce bacteria proliferation without chemical additives. Furthermore, being Oeko-Tex® certified means no harmful chemicals are used during production. 
Our Experience with Lyocell Sheets
After our experience, I can say that the Lycoell fabric is indeed true to the photo. The Lyocell duvet cover is definitely silky and comfortable to sleep with. On whether the sheets are cool to sleep in, I think we need to get the fitted sheets to determine! Nevertheless, the Lyocell duvet cover definitely enhanced our experience with the weighted blanket.
The luxurious sheets take care of the details too, such as having hidden cloth buttons and duvet corner ties.
I used to not bother about care instructions, but I try to do them now to stretch the life span and keep the qualities of the product. Prior to buying, I make sure the instructions are easy for me to follow. Being able to tumble dry in a dryer is a big plus point for me. 😉
script async src="//pagead2.googlesyndication.com/pagead/js/adsbygoogle.js">
Care instructions: Cold gentle machine. Do not bleach. Line dry or tumble dry low. Cool iron if required. Do not dry clean. Hang dry away from direct sunlight. Long exposure to the sun damages the Lyocell fibre.
Shop for Lyocell bed sheets or the bundle of Weighted Blanket and Lyocell Duvet.
---
Weighted Blanket from Weavve Home
---
About Weavve's Weighted Blanket
Instead of cotton or down, weighted blankets contain materials like glass beads to make them heavier. This weight is evenly distributed across the body for a feeling of being gently hugged.
For Weavve's weighted blanket, it is designed with small compartments for even weight distribution, no matter how the blanket is used. The micro-glass beads in the blanket is also its differentiating factor. These non-toxic beads are rounded to create a smooth and uniform fill. People with physical sensitivities need not worry because the beads are very tiny.
The poly-fill is hypoallergenic (a relief for those with allergies!) and has the ideal fluffiness-breathability-warmth ratio for a good sleep in all climates. The breathable fabric is machine and dryer safe.
Moreover, being Oeko-Tex® Standard 100 Certified means every part of the product has been tested and certified to be free from harmful chemical levels.
Choosing the Right Blanket Size
For each bed size (single, super single, queen and king), you can choose your weighted blanket from two different weights. For example, the Queen-sized blanket has 7kg and 9kg options, while the Single-sized has 3kg and 5kg options.
Weavve recommends selecting a blanket weight that is approximately 10% of the intended user's body weight. If you have two users for the blanket like my husband and me, Weavve recommends selecting the lower of the two weights. I weigh about 45kg, and so ideally the blanket weight should be 4.5kg! Thus we picked the next available option 7kg for our Queen size blanket.
As for my child, she's only 15kg, so the 3kg single size is still heavy for her. So we looked for other options that are specifically designed for young children.
Caring for the Weighted Blanket
Weighted blankets used with a duvet cover should be washed about four times a year. Wash more often if it is used without a cover. You can air your weighted blanket out on a sunny day in between washes.
Here's a quick summary of how to wash and dry a weighted blanket:
How to Wash:

Use a gentle laundry detergent. Avoid bleach and fabric softener. Softeners can cause a build up in the material, causing the blanket to feel scratchy or stiff.
Hand wash with cold water. Avoid soaking it in water. Hand washing extends the life of the fabric as well as the filler.
You can machine wash the blanket on its own using a gentle wash and spin cycle. However, for blankets weighing 9kg and 11kg, you might want to check if your washing machine can handle the load. When in doubt, bring the blanket to the laundromat.
How to Dry:

Line dry. Ensure the blanket hangs evenly so that the weight is evenly distributed and thus not lose its shape. 
Do not use a dryer nor iron. High temperatures may damage the glass beads.  
Don't dry clean your Weavve bedding!
Our Experience with

Weighted Blanket
I could feel the weight of the blanket as I carried the non-woven recycable bag to my laundry area. I dug the blanket out from the bag and transferred it into my washing machine. As per the care instructions, I washed the blanket by itself and washed my Lyocell sheets separately. I used 30 degrees water with the gentle care cycle of my washing machine for the weighted blanket.
After the wash, I wished my husband was around to help me carry it to the balcony laundry rack. It's still manageable for me, but another pair of hands would definitely be of great help. The same goes for changing the duvet cover of the weighted blanket.
Just a note, the weighted blanket comes in dark grey, almost black. So if your duvet cover is thin and in light colours such as white, you might see the dark shade of the blanket.
So after the wash, it's time to use the weighted blanket! According to Weavve, it's important to ease into the use of the weighted blanket:
For the first few nights, sleep with blanket only across your legs.
For the next couple of days, cover half of your body with the blanket.
Then when you feel comfortable with it, you are ready to fully enjoy the blanket.
We tried to ease in, but I felt too cold and exposed with no blanket covering my body. Hence, I slept with the weighted blanket covering my body on the first night and my shoulders for subsequent nights.
For the first few nights, I felt the blanket's weight and was uncomfortable trying to toss and turn under the weight. On the other hand, my hubby didn't feel uncomfortable but had a good night sleep soon enough.
After using it for a month now, we don't feel the extra weight. We almost think it weighs like our previous duvet (which is obviously much lighter). My husband's sleep has also improved ever since using the weighted blanket. The light sleeper now has a less broken sleep and wakes up less in the night.
Quoting from health.harvard.edu, if you do decide to try a weighted blanket, be realistic about your expectations and realize that results may vary. "Blankets may be of help for anxiety or insomnia," says Dr. Cusin. But just as swaddling works for some babies and not others, weighted blankets won't be a miracle treatment for everyone, she says.
Feel like trying the soft sheets and weighted blanket? I've got great news! Get 15% discount storewide with no min. spend when you check out with this promo code: JOOGOSTYLE15.
Shop for weighted blanket from S$185 to S$239 or the bundle of Weighted Blanket and Lyocell Duvet from S$295 to S$399. Otherwise, you can browse through weavvehome.com for its bedding collections or follow @weavvehome #weavvecraft on Instagram and Facebook.
Update (Dec 2021): I did another review of products from Weavve Home. Head over to read "Review of TENCEL Lyocell Duvet and Bedsheets".
---
Looking for more tips on travel, home, and baby? Subscribe to my mailing list and be sure to follow me on Instagram, Facebook, and Youtube! If you like what you read here, keep it going too. 🙂
Disclosure: This is an editorial review. The product is sent by the brand for consideration. However, my review is genuine and I am not being paid for publishing my experience with this product.
Disclaimer: JoogoStyle and Christina accepts no liability (whether in tort or contract or otherwise) for any loss or damage arising from any use, misuse, inaccuracy or omission of the information or other contents published on this website.
---
---